Click on the image for larger view, plus a sample page and thumbnails of all the images in this year's offering.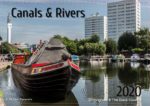 £3.50 * Free Postage! Last few in stock.

The Canals & Rivers 2020 Calendar features photographs of Birmingham & the Black Country. Many of the images are long-exposure night-time shots, a favourite style of the photographer. These really bring out the beauty of the location, highlighting vivid colours and reflections. It is an A3 format, with a month per double-page spread allowing plenty of room for you to add in your important appointments.
Printed in full colour, these glossy calendars will grace the wall in any room. The top quality image reproduction give you a pleasing photograph to enjoy. Don't just buy one for yourself – these make excellent Christmas presents!
The 2020 Canals & Rivers Calendar